The Wake Zone FlowRider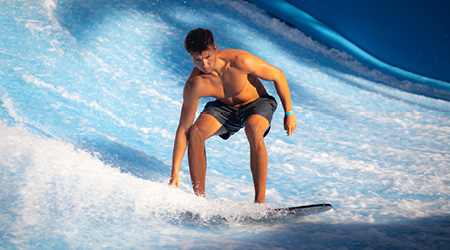 Feel the rush of our FlowRider, The Wake Zone, where you can body board or surf the waves with demonstrations from our trainers.

Price:
From $25.00 (plus tax)

The Wake Zone FlowRider is available for overnight resort guests only.

Note: Reservations for Flowrider, The Wake Zone may be cancelled up to 24 hours prior to your reserved the date. If not cancelled within 24 hours, reservations are non-refundable.This cancellation policy does not apply to insurance. Insurance on purchased items may be cancelled within 72 hours of time of purchase.


CLICK FOR IMPORTANT INFORMATION



Please note:




* Arrive to Pool Towel Hut at least 30 minutes before your scheduled time to complete required waiver, show your valid ID, and pick up your wristband.


* Riders must be Forty-eight inches (48") tall to stand-up ride and Forty-two inches (42") tall to bodyboard.
* Sessions last 30 minutes
* A maximum of 6 guests per FlowRider side rotate during the 30-minute session
* A valid Government Photo ID is required for rider or parent/legal guardian
* Online reservations end 24 hours in advance, please inquire about availability at the Pool Towel Hut if your arrival is within this timeframe